Popular Book
Never Alone
by Iris Fisher Smith
Iris Fisher Smith's stories of family, friends and health will show the importance of sticking together with those you love. She had an Italian Grandmother who in her teens idolized Bonnie and Clyde; a father who was friends with Leonard Nimoy; a mother who attended school with the Boston Strangler and more. This family provides a rich history that shaped the author's life and personality. When Life becomes challenging, this is the time we need each other the most. It is important to laugh and play together and enjoy each others company.
Never Alone – A Reader's Letter
Hi Iris,  Happy New Year to you! We met briefly at my work close to Christmas and you shared with me about everything happening for a reason whether good or bad. You gave me your card and shared about the book you've written and I went home and bought it. I also told my grandmother who is 95 years old and has macular degeneration but loves to devour books in a sitting about your book and she is having my aunt order it for her on her Kindle so that she can use the larger print and read it. She was very excited that your last name is Smith as that was her mother's maiden name.
I wanted to share something that she wrote in a letter to me during the same week after I told her about your book because as I'm reading the introduction you said something in there in the second paragraph about getting through tough times by sticking together and never being alone. My stepdad (my grandma's eldest child) died suddenly on the 13th of December and it has been a very thoughtful time for all of us especially my grandma. In the letter she wrote to me she was trying to be encouraging as myself and three siblings have a large job ahead of us trying to go through my mom and stepdad's things as my mom passed away almost 11 years ago from lung cancer and and to say that she had collected a lot of things is an understatement. But my grandmother's encouraging words were " I know that we are all stronger together as a big loving family and so many friends. I'm super excited to read this book and I'm even more excited that my grandmother gets to read it! Thank you for sharing!!
Kristy B.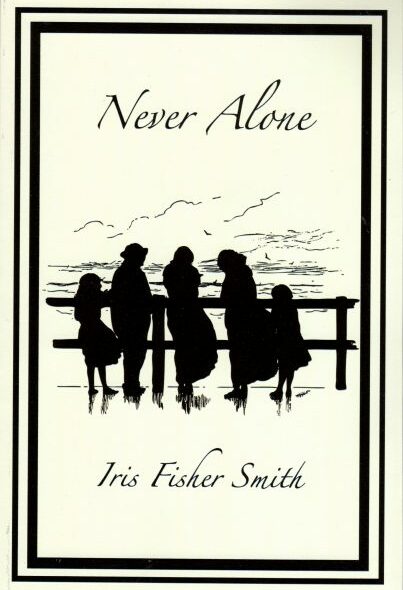 Now Available in Audio Book from Audible!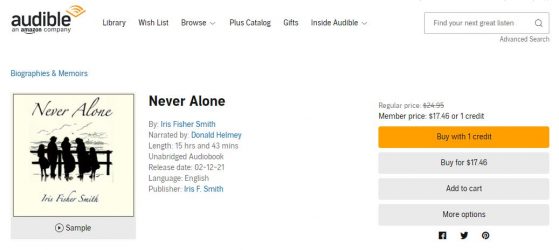 TV Interviews
Central Valley Talk Interview May 2023
Central Valley Talk Interview April 2021
Central Valley Talk Interview June 2021
Never Alone Image Gallery
Video
Family Home Movies
Click Here  to visit our videos page which contains  home movies.
Book Reviews
Never Alone Reviews
We are truly never alone. Heartfelt poignant and upbeat it is a story that could be anyone's. A lesson in love and history as seen from the eyes of the author. Very well written and a pleasure to read. Reading such a positive story in such trying times can be therapeutic as well. Alan F., California  5.0 out of 5 stars
A beautifully told story which will touch your heart. The author takes us on a journey of her life, both joys and struggles which we can all relate to.  It reminds us of what we all need in life: family, friends and faith. Totally inspiring and uplifting!  Alan O., Massachusetts
Incredibly engrossing and inspiring, wow what friends family and faith can do!!! Really enjoyed the book! It made me feel a part of what was happening to Iris and her family and friends. The many struggles that she overcame. Made me think about my grandparents and how they immigrated from Europe and what numerous life issues they endured and the unbelievable hardships along with disabling health issues.. Loved the theme of with faith, friends and family you can overcome incredible obstacles and with these things were 'Never Alone" in life. This theme was cleverly intermixed within the story. Made me appreciate how lucky I am and that we can conquer whatever trials and tribulations occur in our life
A+++++!  Laura A., Washington
Very encouraging with love and hope. Very inspirational, encouraging and informative! I love the history, faith and love this book shares I very much enjoyed "Never alone" by Iris Fisher-Smith.  Amazon Customer 5.0 o5.0 out of 5 stars out of 5 stars
In This book there is something for everyone.  For in such a time as we find ourselves in right now, with so much turmoil, its nice to have such an uplifting book to read, its hard to put down.  Amazon Customer 5.0 out of 5 stars
A delightful read.  Intermingled with family, love and historical facts. It brings you back in time.  Sometimes a lovely trip, other times sad. It was one friends life accounts, with God as her driver… Sue S., Massachusetts
Uplifting, Nostalgic, Inspiring!  A life lived with an optimistic perspective on challenges starting initially with a family from two very different cultures and religions, as well as dealing with her lifelong health issues. I enjoyed this nostalgic journey through a generation of American political and cultural events.  Iris: a woman of faith and who's near death experience was awe-inspiring. I appreciated her colorful characterization of much-loved family and friends.  Diana K., CO
We are truly never alone. Beautifully written book that I Couldn't put it down. I was totally engrossed in this story from beginning to end. This book has it all, John F. Kennedy, John McCain, Bonnie & Clyde, Leonard Nimoy, Earthquakes, Volcanoes and Plane Crashes all woven together as threads in a family quilt in such an interesting way that you can't wait for what's next! A MUST READ!   Carl D., CA
Truly Inspiring. An inspirational family history of perseverance, love and faith. I feel blessed to have been allowed a close up look at an amazing family.   Christine Q. , Vermont
Love the book! I love how Iris takes historical events and pairs them with real life stories of how our family reacted to these events throughout our history. Lance F., CA
A clear and understandable message! Iris F Smith has very effectively portrayed how people from varied religions and traditions come together to create a Family.   It is clear that with God's leadership, all challenges can be overcome.  This message is so important in our time today.  Thank you Iris for such a clear and understandable message in Never alone. Brenda M., Washington
This is a great book of inspiration. It will make you cry, laugh and wonder, how one person could go through so much and come out to be the awesome person she is today all with the belief and grace of God. Wonderful author can't wait for the next book.  Doris G., Massachusetts
"Excellent" Read! Great reading! Very good explanation of the history & goings on from the era of grandparents & beyond. Enjoyed getting involved with the authors explanation of her innermost feelings. Very descriptive!"  Jeri R., Washington
Multicultural responses to historical events over the past 100 years: A family portrait. For me, this book is a memoir that ties my family history to events as we evolved as a family from a multicultural perspective over the past century. Russian, Italian influences coupled with Jewish and Catholic traditions provided an interesting story to tell. The book is well written and well researched showcasing how we dealt with world events and notable people for the past 100 years. Lance F., CA
Audio Narrator.  I had the privilege of working with Cy for several years, but when Cy contacted me saying that Iris would like to talk with me about doing her audio book, I was quite surprised.  I have done a lot of recordings for business videos and materials, but this would be my first venture into recording an audio book.  I knew this would be a big project but did not know how big.  I am grateful to Iris for her patience and help as I worked on this project and learned a lot in the process.  I am proud of the final product. One of the benefits of recording an audio book is that I had to read every word, often multiple times.  Her story is quite amazing.  The adage, "What doesn't kill you makes you stronger" is certainly true for her.  But, as she says continuously throughout the book, she was never alone – family, friends and God were always with her and looking out for her.  It is a message that truly does need to be heard in these days of Facebook, Twitter, Texting, Instagram and more.  I know of parents who cannot have a conversation with their children except by texting them.  That is really sad. Iris shares insights into situations many of us have probably experienced and it is amazing to read how God was leading her through.  I loved her description of seeing what heaven was like, at least I believe that is what she saw. Never Alone is a great read with lots of powerful messages throughout.  I pray that this book will touch the hearts and minds of many to realize that we are truly Never Alone. Don Helmey – Audio Narrator
This is one of the most honest and heartwarming books I've ever read.  In the hours that I was immersed in Never Alone, I had the feeling that I was spending quality time with a friend. Richly detailed recollections invited me into vibrant conversations and spaces that Iris shared with her parents, siblings, grandparents, aunts, uncles, husband and son, and friends. Their lovable personalities remind me of my own, never alone, family and inspire me to proudly claim my relatives more boldly than ever before. I especially loved the chapters in which Iris allows charming glimpses into her keen perceptions as a young child, the little triumphant moments, and easy playtime with siblings, friends, and simpler toys. From her youngest years, Iris gravitated to the kitchen where her Grandma Leah Jean imparted sound advice along with lessons in cooking. She talks freely about her early spiritual curiosity, being raised in an interfaith family, and her journey to a deeply affirmed trust in God. For much of Iris's life, there were significant health challenges that didn't reveal an accurate diagnosis until many years later. She made no time for pity and kept moving forward on a unique trail to the accomplished woman who wrote this book. She possesses innate courage to move beyond insecurities and doubts and engages everyone she meets with sincerity and openness.
There is wisdom in this book. With earned compassionate insight, Iris imparts the significance of her faith, her family, and her friendships. Whether immediate or somewhat later – – unbreakable fortitude, unfaltering acceptance, unwavering commitment, and unconditional love are the sturdy threads that weave her family's tight bond. I laughed a lot, I cried a little bit, and could not pull myself away from this endearing family. Long after the last page, Iris Fisher Smith's memoir is still with me.
Never Alone is a wonderful autobiography that you will not want to put down. This is a book that feeds the soul. Don't wait to receive its offerings of assurance and inspiration.

Janice B.,  PA
5.0 out of 5 stars – Go read this book! I have never came across a book that's inspiring, fun, and truthful before until this one. "Never Alone" is definitely a page turner. The author herself is amazing as well. When you read the book, you will get to know the author really because the book is about her and her family, and about life. I know I felt this way and I'm extremely grateful to have met her in person. I now have the privilege to be working with her on turning her book into a screenplay. I know her story will inspire people greatly. I highly recommend taking the time to read this book. You won't regret it.
Vincent O., CA
Bio
About Iris
Friends & Family
The Essence of My Heart
Iris Fisher Smith grew up in Boston in an Italian / Jewish Russian culture. She comes from a large family. She enjoys spending time with her family and friends doing special activities. She enjoys music and writing. Iris has been strengthened by God's grace throughout the many challenges she has faced with her health. Leaning on God and close friends and family members has made all the difference. She is also known as a woman of prayer and faith by her friends and family.